We welcomed 2018 with this precious baby girl!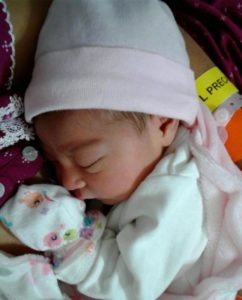 Maria came to our Hialeah Clinic not sure what to expect. She had come from Mexico three years ago and had no family here until she met her husband Leonel, who is from Cuba, and they made Miami their home. When Maria found out she was pregnant with her first baby, Maria and Leonel were filled with joy…until they told some friends. Most of them said their life together had just started and they were in no position to have a child. "This is not the time. You need to own a house and have the necessary things before having a baby." That was the phrase most of them used. "You can always have children later in life". One friend referred her to an abortion clinic to get tested and another friend referred her to the Heartbeat of Miami clinic in Hialeah where she could get a free pregnancy test and ultrasound.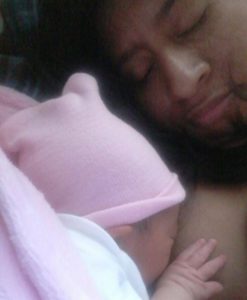 Obviously she was confused at this point…but God led Maria to our Hialeah Clinic. There she met our Ultrasound Technician, Olga Rodriguez. Olga heard all of Maria's concerns. After confirming a positive pregnancy test, Olga performed the ultrasound. Maria was 15 weeks pregnant with a beautiful baby girl! Tears of joy filled that room and immediately Maria knew that God had sent this baby at His right time regardless what anyone else said. Olga assured her that God would provide like He had provided for Maria since she arrived in Miami. This baby just needed Maria and Leonel, all the necessities would follow. God had done it before…He would do it again and again! Leonel and Maria would have never thought of an abortion…they were just confused hearing different opinions that did not line up with God's Word. To God's glory, when the New Year arrived, so did baby Marie Esther! The first baby born to Heartbeat of Miami in 2018!