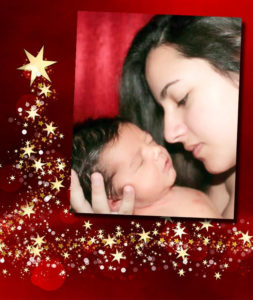 Chavely came to our clinic wanting to abort her pregnancy. At only 18, she did not think that she was capable of having this baby. She felt so confused and afraid – her boyfriend left her and didn't want to support her in her pregnancy. She wanted to continue studying and go to college. How could she make these plans with a baby?
But God led her to one of our Heartbeat of Miami Pregnancy Clinics. We took the time to listen and talk with her. We shared the value of the tiny life in her womb. Chavely made the best decision ever to trust Jesus as her Savior and have her baby. She was so grateful she came to our clinic instead of an abortion business!
We helped get her family involved and they offered their support. Baby Lyam Marco came to bring joy and hope. Chavely calls him her Christmas Miracle.