Let me tell you the story of a young woman named Dagmara.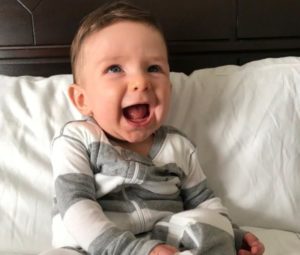 A few years ago, Dagmara arrived here in the United States. She'd had several abortions in the past, and was not planning on having a baby anytime soon.
But one day, she found out that she was pregnant.
She was desperate.
Her partner abandoned her, and without his support, she didn't know what to do.
She didn't know if keeping her baby was a realistic option.
Searching for help, Dagmara came to Heartbeat of Miami's Hialeah clinic. She wanted to get more information about what she thought was her only choice – aborting her baby.
But when Dagmara came inside the clinic, we told her how precious life is from the moment of conception, and how an abortion would destroy the beautiful baby growing inside her.
And then we showed her the ultrasound image of her little boy.
When Dagmara saw the picture of her precious boy on the ultrasound screen, and heard his heartbeat, she made a life changing decision:
She was going to save her baby!
Her adorable son, Gabriel, was born happy and healthy a few months later. Dagmara is so, so grateful that she chose life.