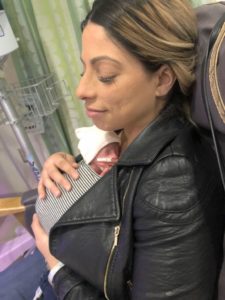 Nicole came to our Pregnancy Help Medical Clinic with an unplanned pregnancy. She was scared thinking of an abortion because she had no support from the baby's father. She was being pressured to abort. Her test was indeed positive and when we did the ultrasound, Nicole was 16 weeks pregnant with a little girl. As she saw her baby on the ultrasound screen and listened to her heartbeat, Nicole felt the presence of God in that room and could not contain the tears. At that very moment, she chose life for her baby girl which she immediately called her by the name of Aaliyah.
When Nicole was 23 weeks, on November 1st, she had to have an emergency c-section due to preeclampsia. Aaliyah weighed less than 1lb at birth. Nicole called her counselor Natalie who immediately put out an urgent prayer request to our Team and all of us asked many others to pray. We cried out to the Lord for this child's life and Nicole's prayer was, "Lord let my babygirl live. Please allow me to hold her!"
Aaliyah is a miracle baby!
Yesterday afternoon, Nicole sent Natalie this amazing picture above. The Lord answered Nicole's prayer just in time for Thanksgiving! Mommy and baby were finally able to have skin to skin contact for the very first time…almost an entire month after her birth. This is essential for her progress. The doctors are also calling her a miracle and this tiny baby now weighs 1lb 8oz.
Aaliyah is the tiniest baby born to Heartbeat of Miami and a real fighter indeed. She has a long way to go but we are trusting on the Master Healer, our Lord Jesus. He saved her before birth, He will save her now!